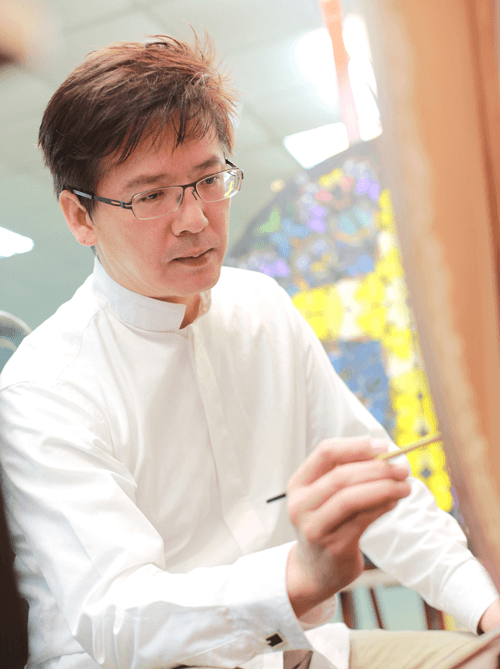 Yang Ding-Xian 楊鼎献 /Autobiography 

Yang Ding-Xian was born in the simple little village of Houli on the banks of the Dajia River in 1966. I have no memory of my biological father from my youth. He passed away when I was very young. Later on, my mother remarried to my stepfather, who came to Taiwan from the mainland with the army. My stepfather treated me as if I were his own child, working hard in life to support us. In the 1960s, Taiwan was in a rebuilding phase. The average family was desperately poor, and the living room would also serve as a factory. My childhood memories are filled with the poor economic condition of my family and the hard work of being a child laborer. Because life was hard, as far back as I can remember, I had to help my family manufacture things. Back then, working at home felt like working overtime at a factory every day, and I still have vivid memories of that period in my life. My first job was to attach gold leaf to gold paper. At that time, I was only 5 or 6 years old, and I always had to work until I couldn't keep my eyes open or stop yawning before I could go to bed. Perhaps this is the early maturing of an only child. From a young age, we began to learn to contribute to the household. I was often still attaching gold leaf even in my dreams. 

That age is the time when children are the most active, but I was able to sit on a stool and attach gold leaf all day. However, children have tender skin. The rough gold paper often wore down my skin until I started bleeding. Usually, when my middle finger was hurt, I would switch to my index finger. When my index finger started to hurt, I would switch to my ring finger. That time was truly miserable, but when I think of it now, this kind of repetitive, monotonous training gave me the ability to persevere through loneliness and hardship when I began painting later.

Different types of family work gave me a massive physical burden, and it pained me to not be able to play with children of the same age when I was growing up. However, this experience also helped me a lot in my professional career afterward. When I began elementary school, I switched to stringing to tennis rackets. I became so adept at the job that I could eventually finish stringing a tennis racket in three or four minutes with my eyes closed, relying only on touch. This job truly affected me and ingrained within me the concept that a person attains mastery only through many repetitions of simple tasks.


My mother's education method was typically to use punishment in place of rewards, regardless of how well I performed. When I was growing up, I never heard my mother praise me. Even when I began winning awards at school for painting, she never showed any happiness. Perhaps she was afraid that I would become arrogant because of this, so she continued to severely punish me. Therefore, when I was young, I had a deep inferiority complex. If, as everyone says, childhood is the time with the fondest memories, then my fondest memory is painting. When I took painting class in school, even if it was just a piece of B4 drawing paper, I saw it as an endless prairie. My brush was like a steed, galloping through this broad expanse. There was no gold paper, no tennis rackets, and I didn't have to do repetitive, monotonous work to support the household. This was my personal world, my land of freedom. I think that if I had not found an outlet for my life during those years of pitiable child labor, I may have lived my entire life in a state of sadness.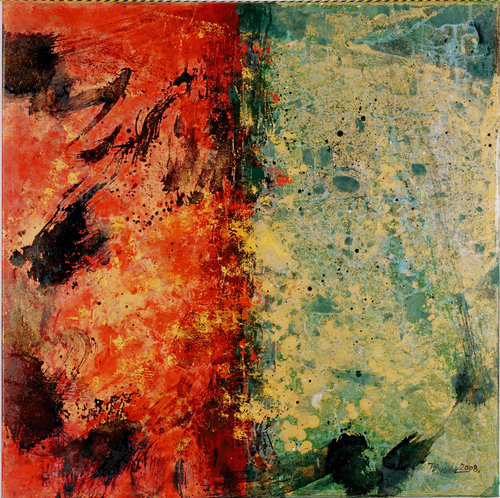 Another encouragement in my life was my "fighting spirit" of relying on myself instead of anyone else. On a cold winter night when I was 8 years old, I was working in our home, dying to taste a bowl of the piping hot noodles that my classmates would often eat at roadside stands. My mother promised that I could have a bowl if I finished the work for the day. This was one of the few opportunities for "eating out" in my memory. With a goal in mind, I strived to finish my work. But when I happily finished, my mother refused to buy noodles because she said it was too dark and cold outside and she did not want to spend money. I silently walked back to my room. In the dark night, two lines of tears fell down my cheeks. It was cold, and my heart also became cold. I told myself that no matter what, I had to rely on my own effort in my life to achieve my dreams. I was unwilling to let despair, disappointment, and regret become my life, and I was even less willing to let my negative emotions become the entirety of my life. Therefore, I took up my drawing books and comforted my broken heart by turning all of my feelings and grievances into art on the pages. For the first time, I felt that I was no longer alone and sad. I seemed to have found a motivator for my life. That night, when I originally thought my hopes were dashed, was also the night where a new door officially opened up in my life. I am grateful for all of the struggles that gave me the blessing of having positive personality traits later in life.

In my third year of high school, I was inflicted with glaucoma. Because of this, my mother hoped that I could become employed as soon as I graduated from high school to help the household. In addition, my father and mother were in poor health, and I was the family's only child. Therefore, I listened to my mother's words and went to work. Nevertheless, the desire to paint never vanished from my heart. The more time passed, the more intense it become. Half a year later, regardless of my mother's opposition, I began to prepare to retake the examinations. In that year, I started university studies after obtaining a nearly perfect score on the national technical subjects in the entrance examination and formally took my first step to becoming an artist.

Studying in the university was another test. Because my mother opposed me starting on this road that seemed to lack career prospects and I had neither relatives nor friends initially in Taipei, for several months I could only afford a bowl of NT$5 misua for almost all of my meals until I found opportunities to become a tutor and work part time. As a young and wild man, I believed that there were no teachers who could teach me, thus I decided to join the design group of my department. After I joined the design group, I discovered a whole new world outside of my comprehension. I found that what I had learned was limited, and I had countless deficiencies. Therefore, not only did I have to work part time, but I also had to strive to learn. With the hardworking spirit I had acquired through child labor, I continually encouraged myself to keep moving forward. During my studies, I always spent all of my time either working or studying. I am grateful for my time in the design group for giving me a greater recognition of creative thinking, becoming an inspiration for my later creative thinking. Although the path of art is rough, it is also a path of beauty that I cherish.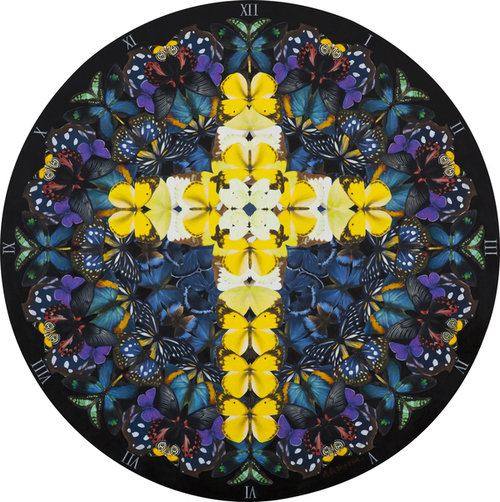 Art is a kind of attitude toward life, living in a way that expresses the true you. Attitude toward life fuses with creations. I continue to use a sincere attitude to live and experience life. The various emotions, energies, and experiences that I obtain via living life this way become important fruits of life. I use a sincere and persistent attitude to practice being an artist who continues to paint regardless of what happens.
In the contemporary digital, virtual era, it is not always the new things that provide inspiration and sustenance. I use my own cultural perspective and utilize Western painting tools to express ancient Eastern wisdom, emphasizing my own life and culture through local cultural traditions. Only by truly being myself can I let my own unique side be seen. 


This is the root of art and the only way to give others my most powerful strength and blessing.
The goal I am chasing is not to be the best, but to be unique.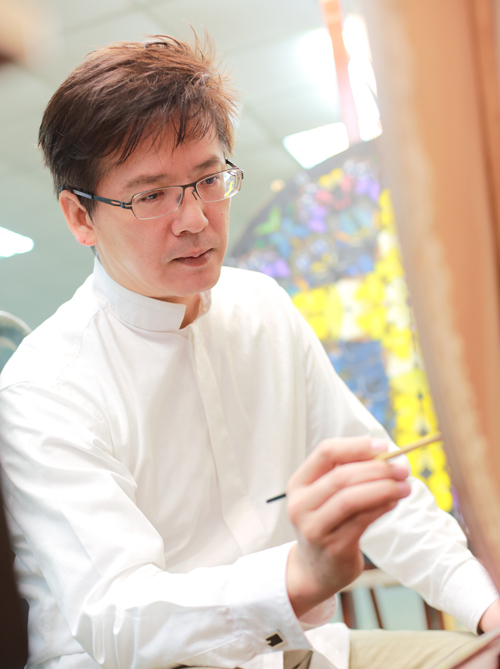 楊鼎献

/
Autobiography 


1966年出生於大甲溪畔的樸實小鄉后里,童年裡我對生父是沒記憶的,他很早就過世,後來母親改嫁從大陸來台從軍的繼父,繼父對我們就像自己親生的孩子,在生活上努力的工作來扶養我們成長,50年代的台灣,百廢待舉,普遍的家庭都是赤窮,客廳即是工廠,童年的回憶充滿著因經濟的窘困而成為童工的辛苦,有記憶開始就必須幫忙做家庭代工,家裡就好像工廠每天不停地加班,記憶非常深刻,我的第一份代工就是在金紙上貼金鉑,那時我只有5、6歲,總要貼到眼皮撐不開哈欠連連才上床睡覺,也許是獨子的早熟,小小年紀的我們便開始學習要為家裡的經濟多盡份心力,常常連夢裡都還在貼金鉑,每天坐在家裡角落貼金紙上的金箔,那個年紀的孩子正是最好動的時候,而我卻能安坐在小凳上貼一整天的金鉑,但小孩皮嫩,常常被粗糙的金紙磨破了表皮滲出血來下,而我就是中指受傷換食指,食指磨痛了再換無名指,當時真的是苦不堪言,但現在回想起來,這種重複單調的訓練,在我日後的畫畫過程中給了我耐住寂寞的最佳毅力。
大大小小的家庭代工在成長過程中帶給我極大的辛苦與無法和童年齡孩子玩耍的痛苦,但也為我帶來許多日後在專業領域上的祝福,上了小學,我換了裝網球拍的代工,印象深刻到最後我都可以閉著眼睛,靠著觸覺快速的用三四分鐘的時間將一個網球拍完成,這件工作讓我感觸很深,我深深的了解一件事,唯有簡單的事重複的做,才能成為專家。

母親的教育方式無論表現良好與否通常都以責罰來代替獎勵,成長過程中,我從沒有從母親口中聽到她對我的讚美之辭,就算日後上學我在畫畫得獎,她也喜不形於色,或許是深怕我因此而驕傲仍嚴厲責罰我,因此小時候我有很嚴重的自卑的心理,如果說童年是擁有最多美好記憶的時刻,對我最美好的回憶就是畫畫,當我在學校接觸到畫畫課的那一剎,即時只是一張B4的畫畫紙,我卻覺得它是一望無際的草原,我的畫筆,就如同一隻駿馬,馳聘在這廣垠的天地間,沒有金鉑紙、沒有網絿拍、不需要負擔家中的經濟做重複單調的代工,這是我楊鼎献的天地,我的自由國度,我想在那慘綠的童工年代,如果我沒有從畫畫中找到我生命的出口,也許我就這樣鬰鬰地過了一生吧。

我生命中另一個激勵我求人不如求己的「鬥志」,是在8歲那年冬天的一個寒夜,正在家裡做代工的我,很渴望能夠吃一碗同學常吃的熱騰騰炒麵,母親答應我只要將今天代工的工作完成,就讓我吃上一碗,這是我記憶中鮮少有的「外食」機會,有了一個目標我很努力的趕工,但當我開心的完成後,母親卻說外面又暗又冷還要花錢而拒絕了,我默默的走回房間,暗夜中,兩行清淚滑落了我的臉頰,天冷,我的心更冷,我告訴自己這一生無論如何一定要靠自己的努力,完成我的夢想,我不願意帶著失望、落空與懊悔來成為我人生的遺憾,我不願意讓自己的負面情緒成為我生命的全部,於是我拿起畫本,將所有的情緒與委屈盡情的透過線條來安慰傷心的自己,我第一次感覺到自己不再孤單與悲傷,我似乎抓到一條人生列車的動力,原本以為希望落空的夜晚,也正式爲我的人生開啟了另一扇門,感謝所有的磨練讓我日後都擁有在人格特質上正向的祝福。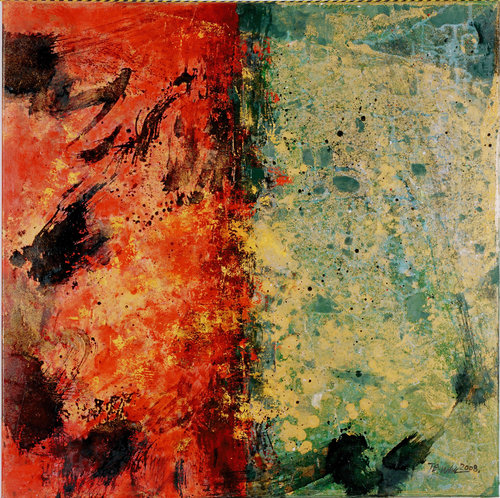 高三那年,我得了青光眼,因為這樣的緣故,母親希望高中畢業後就去就業,可以幫忙家庭經濟,再加上父親與母親身體狀況不好,我又是家中的獨子,因此便聽從母親的話去上班,但內心那顆畫畫的慾望從未被澆熄,越是如此越是更加的強烈,半年後不顧母親反對,開始準備重考,那年也以術科接近滿分考上大學,正式開始我創作的第一大步。


進大學念書又是另一個考驗,由於母親反對我走創作這條看似沒有錢途的路,剛上台北舉目無親又沒一個朋友,於是在前好幾個月,幾乎每天三餐都是吃一團五塊錢麵線,直到找到家教與打工的工作,由於年少輕狂,認為沒有老師可以教導我也因此選擇了設計組,一進入設計組,才發覺天外有天,人外有人,覺得自己所學有限,有許多不足的地方,因此不僅要打工更要努力學習,拿起當年吃苦耐勞的童工精神,不斷鞕策自己前進,在求學的路上我一直都是半工半讀,感謝在設計上的學習讓我對於創新的思維有更多的體認,成為我日後創新思維的養分,藝術之路,一路走來雖然坎坷,但也有一路的旖旎風光,我珍惜著。
在大二的藝術概論課上,有一天我的老師講了一句話「要做藝術貴族不要做藝術乞丐」,這句話至今一直影響著渴望脫貧翻轉的我。大學畢業後陸續在廣告公司、知名服裝品牌、高中大學的任教…,最終從小就立志成為一位藝術家的心願沒變,2000年我從師大藝術設計研究所畢業,我知道學習永無止境,我的心跟世界一樣大,但知道自己仍非常的渺小,因為人生的閱歷,我的藝術天眼也看得愈高,從謙恭中,卻也感受到自己逐日踏實的信心。2008年是我人生很重要的一刻,我與女友結婚共組家庭,同年成家的我也成為了北京中央美院博士生,有了一個屬於自己的家,又多了一份更大的支持力量讓我心中那份為藝術而燃燒的心更強烈,在北京最多的學習就在於和我的博士生導師-李少文老師的互動當中,李老師也成為我生命中最重要的家人,他無私的跟我分享許多的觀念,在北京的期間也讓我的視野更加的寬廣,在創作中更擁有一份強烈的使命感。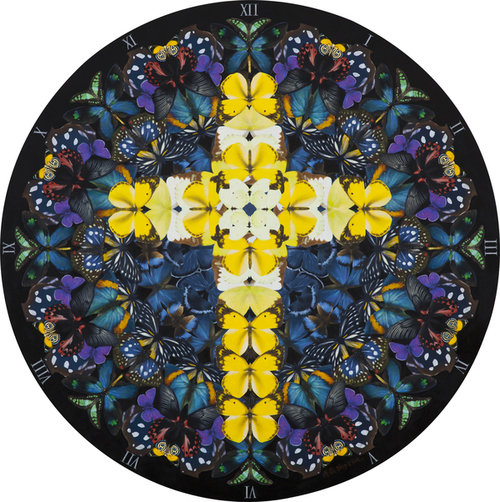 藝術是一種人生與生命的態度,並且活出屬於我的樣式,生命的態度與創作上的合一,我堅持用虔誠的態度去體驗生命真實的過程,而這當中所產生酸、甜、苦、辣與能量的這些經驗成為生命中重要的果實,並且用虔誠與堅持的態度去實踐,實踐到不管發生何事都要堅持畫下去的藝術家。
在當代的數位虛擬時代,不是新的東西才有營養,我站在自己的文化高度,運用西方的繪畫工具,表達東方古老的智慧,重視自己的生活與文化,運用在地的文化傳統,真實地做自己,才能讓自己獨特的一面被看見,那才是藝術的根,才能給人最強大的力量與祝福。
就如同我所追求的目標不做第一,只求唯一。